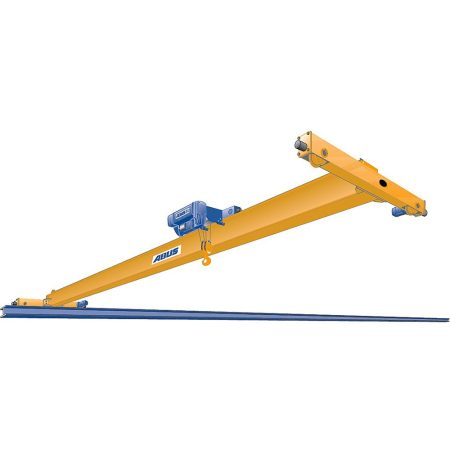 Single Girder Cranes
At a glance
SWL up to 16 t.
Spans up to 39 m (SWL dependent).
Optimised headroom via main girder connection variants.
Highest possible hook position can be achieved.
Description
Enquire / Quote
Brochure
Single girder Overhead  travelling cranes guarantee optimal material flow even in situations where space is at a premium as in production plants or warehouses where there is little room for crane systems. Single girder travelling cranes are available with rolled section girders or with welded box girders. Thanks to different main girder connection versions, each type of crane can be optimised to minimise headroom and achieve the highest possible hook position.
The MORRIS / ABUS single girder overhead travelling crane is our flexible crane for almost any application. Even in buildings with low ceilings effective material flow solutions can be achieved for loads of up to 16 t and spans of up to 39 m. Normally safety clearances below ceilings are not required for single girder cranes within this load range. This allows the optimal use of existing space or can save additional building height costs.
The MORRIS / ABUS single girder Overhead travelling cranes adapt to different building applications due to their various main girder connection variants. Favourable crane dimensions help to reach optimal highest hook positions. The main girder connection 'version 3' is the optimal solution for new factory buildings as this version offers the best side approach dimensions. If lifting height is the decisive factor then a single girder crane ELS with side-running trolley is the right choice.
The single-girder travelling crane is also a good choice for special solutions: The  MORRIS /ABUS accessories and components offer specialised additional equipment to satisfy your requirements.
Robust rolled section girders form the crane girder of the MORRIS / ABUS single girder Overhead travelling crane ELV whereas  MORRIS/ ABUS single girder travelling cranes ELK and ELS consist of torsion resistant welded box girders.
Please complete the form below and we will contact you.