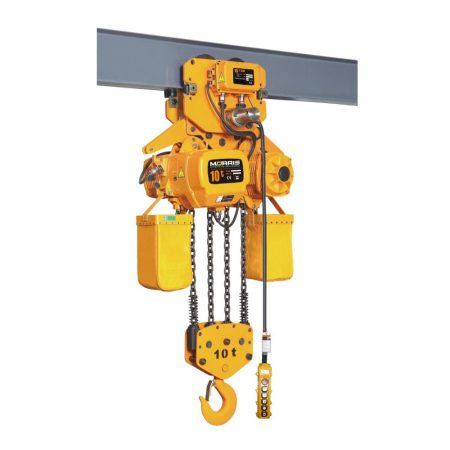 Morris Electric Chain Hoist
The "Morris" Chain hoist offers a range of lifting capacity from 500kg – 25 tons. These are made for heavy duty application.
FEC80 ultra heat-treated alloy steel chain which is suitable for rain,
sea water and chemical environments.
Low overall headroom and weight with minimal pulling effort in compact design.
Hooks are all forged alloy steel with wide throat opening and slip resistant safety hook to better retain sling.
Manufactured to BS3243/1990.
Standard voltage is 380V with  options available  for 525V / 3 phase as well as 220 V single phase.
Explosion proof chain hoist available class Ex d IIB T4 GB. Suitable for the temperature of IB T4, Zone 1 or 2. Allowed temperature around hoist 135 degrees.