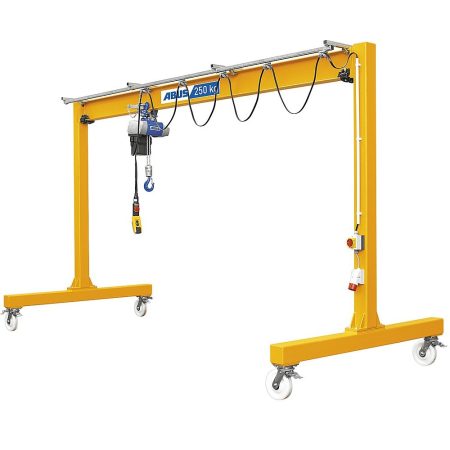 Lightweight Mobile Gantry
At a glance
Load capacity (SWL) up to 2000 kg
Total height up to 5000 mm
Total width in accordance with load capacity (SWL):
Load capacity (SWL)    max. total width
250kg                             7900mm
500kg                             7000mm
800kg                             6500mm
1000kg                           6300mm
1250kg                           5650mm
1600kg                           5000mm
2000kg                           4000mm
DESCRIPTION
ENQUIRE / QUOTE
BROCHURE
A lightweight mobile gantry promises maximum performance whenever you need it. The flexibility and mobility of the MORRIS / ABUS mobile gantries are their greatest advantage. They are generally used whenever occasional lifting of loads is necessary, the crane performance is needed at multiple workplaces or the installation of a slewing jib crane or overhead travelling crane would not be a practical solution.
The mobile gantry promises you maximum performance without limiting the rest of your indoor operations. It is easy to move and, thanks to its practical design, can easily travel over workplaces. During design you can specify the height and width of the gantry, this means the lightweight mobile gantry perfectly meets your individual requirements.
We manufacture your lightweight mobile gantry in height and width according to your individual requirements. The maximum width (maximum beam lengths) is 7900 mm (depending on the load capacity), the maximum height is 5000 mm and the maximum load capacity is 2000 kg.
The MORRIS / ABUS lightweight mobile gantry is equipped with four steerable wheels and two 90° direction locks (with wheel stop and swivel stop) as standard. This makes it possible for just one person to push the LPK to its workplace by hand. The wheels have a diameter of 200 mm and are made of high-strength polyamide.
Lightweight mobile gantries can be used for a wide range of applications. Whether it is used for repair work, as a workshop crane, for changing moulds on plastic injection moulding machines or in storage technology – this mobile gantry crane is quickly on hand anywhere it is needed. The MORRIS / ABUS LPK is not only mobile, but also particularly stable and powerful thanks to its solid section main beam.
Please complete the form below and we will contact you.
Enquiries – Lightweight Mobile Gantry
"*" indicates required fields