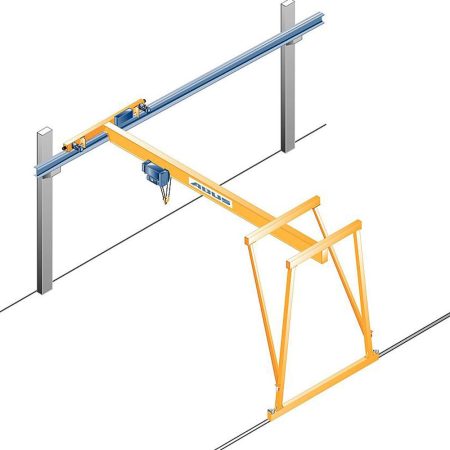 Semi – Portal Cranes
SWL up to 10 t
Spans up to 15 m.
Used mid-level within production environments.
No floor-level obstacles as no guide rail required.
Installation quick and easy.
Minor loading of building structure
DESCRIPTION
ENQUIRE / QUOTE
BROCHURE
The single girder semi- portal crane is particularly suited to the movement of goods of up to 10t at mid-level. The EHPK also integrates smoothly into existing material flow systems: the upper end carriage travels on normal crane tracks and the lower end carriage does not require guide rails thus being free from any edges or hazards.
Loading on the building structure is minor. A combination of obstacle recognition and rotating beacon make sure the semi-goliath crane is operated safely. From the economic point of view this crane is characterised by comparatively low investment costs and can be installed easily and quickly.
Characteristics of the crane:
Safe Working Loads (SWL) up to 10 t.

Spans up to 15 m (dependent on SWL).

Thruster rollers and two drive motors on the high-level end carriage.

With obstacle detection and rotating beacons for added safety.

Without guide rails on the floor.

ABUliner for long travelling.

Robust torsion resistant box girder design.  
Advantages of the system:
Without guide rails at floor-level, there are no obstacles or hazards. This makes operating the crane safer and tidier and the building floor space is not divided messily by crane rails.

No restrictions when using fork lift trucks and similar equipment within the building.

Installation is quick and possible at short notice.

Low investment costs per area covered.

Low loading of building structure.
Please complete the form below and we will contact you.
Enquiries – Semi Portal Cranes
"*" indicates required fields